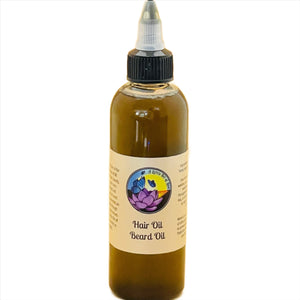 Description
The perfect hair oil for WOMEN and MEN!  Keep your hair, beards, locs, scalps, and roots healthy at its best!  Nozzle top provides an easy reach through your natural tresses.  Apply "A Little Bit of Love" at a time as needed.
Ingredients:  essential oils:  apricot ~ avocado ~ coconut ~ hemp seed ~ jamaican black castor ~ jojoba ~ lavender ~ olive ~ rosemary
Use:  For any hairstyle including locs and sister-locs, in between washes, or as a pre-treatment before washing.  Use the nozzle tip to reach your scalp (be mindful of how far you choose to open the nozzle).  Use fingertips to massage oil throughout.  Style your hair for the day, or let marinate in your du-rag or bonnet at night. Condition beards with an all day natural shine. 
Wash & Go Alert:  you may prefer to apply this hair oil AFTER your wash & go is complete and fully dried to prevent product beading / residue.  Plus, as your fingertips massage this oil into your scalp, you will also fluff out your wash and go perfectly! 
Bonus Alert:  most ingredients in this product are natural bug repellents!